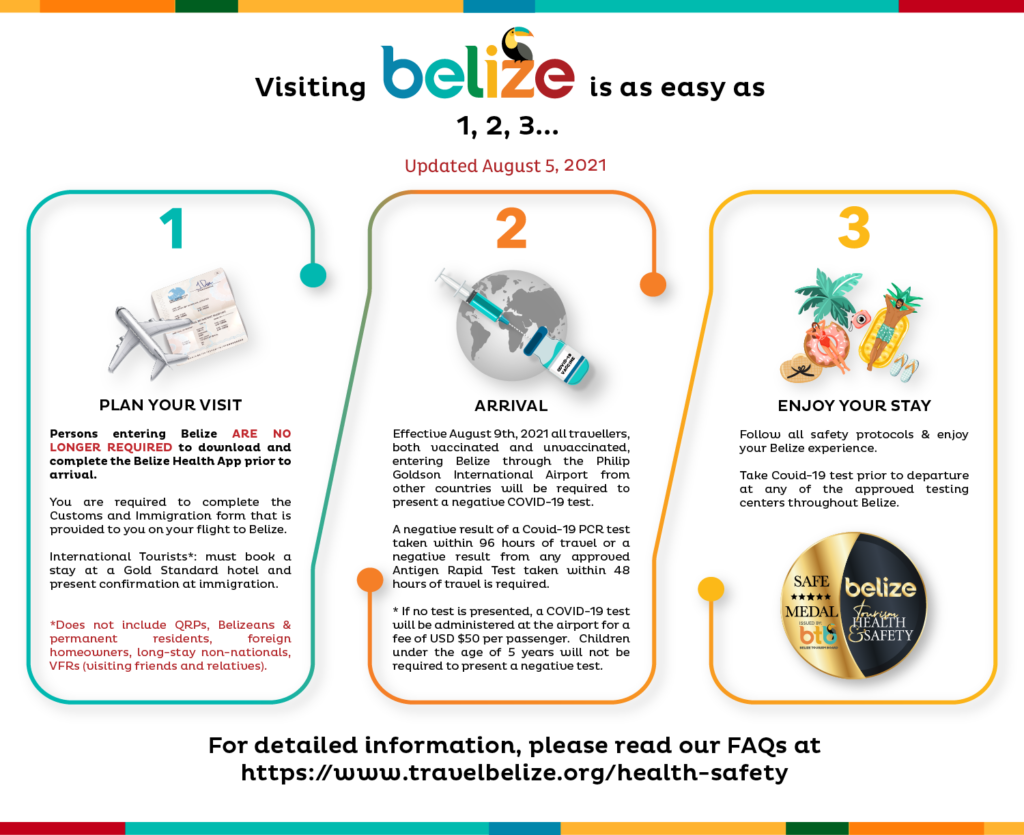 Effective Monday, August 9th, 2021 all travellers, both vaccinated and unvaccinated, entering Belize from other countries will be required to present a negative COVID-19 test. 
Bring a negative COVID test. 
All travellers entering Belize at the Philip Goldson International Airport (PGIA) will be required to present a negative Covid-19 PCR test taken within 96 hours of travel or a negative result from any approved Antigen Rapid Test taken within 48 hours of travel. If no test is presented, a COVID-19 test will be administered at the airport for a fee of USD $50 per passenger. Children under the age of 5 years will not be required to present a negative test; but children 5 years and older will be required to present a negative test.
All travellers entering Belize through the Northern and Western Borders will be administered a Rapid Test for COVID-19 by the Ministry of Health and Wellness, at their own expense. No external COVID-19 PCR or Rapid Test will be accepted at these points of entry.
Step 3: Stay at a Gold Standard accommodation.

In addition, international tourists must book at a Gold Standard hotel and present confirmation at immigration. In ensuring the health and safety of the country the Belize Tourism Board has outlined national tourism guidelines in which various tourism stakeholders are working towards implementing in their business. Hotels, restaurants, tour companies and all tourism related operations in country are working towards implementing protocols.
To meet the new health and safety challenges, business that comply receive "Gold Standard Recognition". It is recommended that you book with these businesses that make the gold standard list. Here at ROEming Belize, your safety is our priority. As a local travel agency on the ground in Belize – we have a close relationship with many wonderful properties and trustworthy tour operators in Belize that adhere to the countries health and safety standards. We incorporate these reputable and approved businesses in your Belize Itinerary as we craft your itinerary down to the finest details. From booking accommodations, transfers, tours and much more.
At ROEming Belize we are committed to planning bespoke adventures and vacations around Belize that make for unforgettable travel experiences. We are also here to guide you through the entry requirements. Trust us to keep you and your booking safe, enjoyable and one to remember!